Our commercial painting background covers a broad range of markets and services including interior and exterior painting in commercial business parks, distribution centers, concrete tilt-up new construction, office buildings, and retail and shopping centers.
It is essential that you choose the right commercial painting contractor who can handle your specific needs and safety requirements. Our operational systems assure you get the right manpower on your job when you need them: day, night, weekends, and holidays if necessary.
Owners of hotels, condos and apartment buildings know that any commercial painting project is an investment in their business. A fresh and crisp new look is welcoming to guests and tenants. Protecting the building from the elements is just as important. Done right, by well-experienced professionals with the right tools and the right materials, your structure will look good and withstand the elements for years to come.
What should you look for when hiring a commercial painting contractor?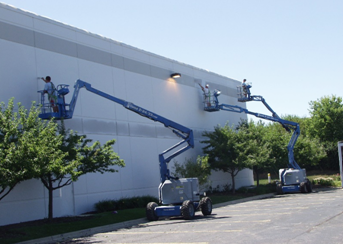 A written estimate that specifies exactly the work to be performed is a must. They should be able to tell you exactly when they will do the work. You should also ask about their experience with similar projects. Ask how they will prepare the work surfaces and how they handle damaged areas. Never allow anyone to simply paint over rotting wood or mold and mildew.
We begin every commercial painting job with a thorough cleaning to remove any dirt and grime that would prevent proper adhesion. We inspect, repair and replace all panel joints prior to painting. Mold and mildew has to be treated and removed. These issues don't go away with a coat of paint and ignoring them will lead to a finish that is stained, or that peels and blisters.
Only when we are satisfied with the cleanliness and integrity of the surface do we apply a primer coat to guarantee proper adhesion of the top coat in your selected colors. Our courteous and professional team members will protect your property throughout the entire process. Fastidious use of masking, drop cloths and plastic sheeting means you will never find stray paint on your windows, masonry or anywhere it doesn't belong. We will protect your landscaping and plants during all of our work.
Our commercial painting creates value for the business owner because our rigorous preparation protocol and attention to detail ensures that all of our work will look great and protect your investment longer. We stand behind every job with a written warranty.